Lonestar Industries • Commercial Masonry Services
About Lonestar Industries
Lonestar Industries was established in 2002, recognizing the need for quality commercial masonry. The company quickly established a reputation as a leader of masonry services and solutions in North and West Texas.
National contractors, sub-contractors, vendors and clients know us to be demanding of safety, quality and dependable service.
This has enabled us to develop productive and effective working relationships with several of the nation's largest builders and commercial contractors, as well as government agencies.
Learn More
Our Services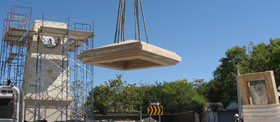 Lonestar Industries was established to provide masonry services on just about any kind of commercial structure. We have constructed educational facilities, medical facilities, religious facilities, hotels, libraries, financial institutions, office buildings, storage facilities and retail centers.
Current Projects
OSU SPEARS BUILDING
STILLWATER, OK – MANHATTAN
WYLIE ISD CAMPUS ADDITIONS
WYLIE, TX – GALLAGHER CONSTRUCTION
GRADY COUNTY FAIR ARENA
CHICKASHA, OK – CMS WILLOWBROOK
GLASSCOCK ISD BASKETBALL ARENA
GARDEN CITY, TX – WB KIBLER CONSTRUCTION
SENIOR HEALTH AND WELLNESS CENTER
OKLAHOMA CITY, OK – WL MCNATT
View More
Recent News
The Launch of a New Website
Posted on April 7, 2011
We're excited to announce our new website. We're extremely happy with the results and speedy turn-around time from an Austin-based web development agency.
References
Gallagher Construction Services
Von Gallagher - 972-633-0564
Sandia Construction
Greg Durbin - 806-745-9450
Joe Funk Construction Engineers
Rusty Norris - 972-243-7141
Western Builders Inc.
Jared Davis - 806-376-4321
Testimonials
"Lonestar Industries has established a solid reputation with Sandia Construction by completing multiple projects throughout the years in a a professional and timely manner."
Jeremy Brozo
Project Manager, Sandia Construction
(c) 2018 Lonestar Industries. All rights reserved.